Travel Photography > St. Petersburg, Early Morning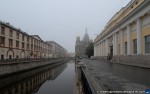 St. Petersburg, Early Morning
Here is a street in St. Petersburg, Russia before the businesses open and the tourists arrive. At the end of the block is The Church of the Savior on Spilled Blood or Khram Spasa na Krovi.

The Church is prominently situated along the Griboedov Canal. The embankment at that point runs along either side of a canal. On March 13, 1881, as Tsar Alexander's carriage passed along the embankment, a grenade thrown by an anarchist conspirator exploded. The tsar, shaken but unhurt, got out of the carriage and started to remonstrate with the presumed culprit. Another conspirator took the chance to explode another bomb, killing himself and mortally wounding the tsar. The tsar, bleeding heavily, was taken back to the Winter Palace where he died a few hours later. Photo Copyright 2006 Robert Giordano.

Description from Wikipedia.