Screen Resolutions Chart
v1.0, 2010-01-27 by Robert Giordano


The following chart shows a number of common screen resolutions of desktop computers and laptops, CRT monitors and televisions, LCD monitors, iPhones, iPads, Android and other mobile devices, SD 480p and HD 720p and 1080p video. Click the image for a full size pixel resolution chart.

Download this chart and set as your background image to compare different screen resolutions and aspect ratios. Remember to set your background to "center" or the various rectangles won't be accurate.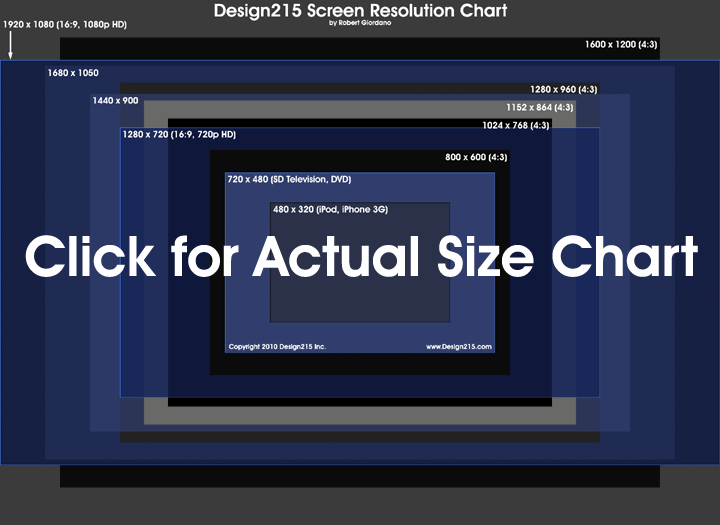 List of Resolutions on the Chart:
480 x 320, iPod, iPhone 3G
720 x 480, SD (Standard Definition) Television, DVD, some Android devices.
800 x 600, Older desktop computers and many laptops (4:3 ratio).
1024 x 768, Newer desktop computers and most laptops (4:3 ratio).
1152 x 864, A common resolution on Windows OS (4:3 ratio).
1280 x 720, 720p HD (High Defintion) (16:9 ratio).
1280 x 960, Newer desktop computers and some laptops (4:3 ratio).
1440 x 900, Macbook Pro laptops since 2007.
1680 x 1050, Higher end desktop computer monitors.
1600 x 1200, Higher end desktop computer monitors (4:3 ratio).
1920 x 1080, 1080p HD (High definition), Blu-Ray, Macintosh computers.
[3 Comments]
Dennis
22 Jan 2012 9:33am
"This was shared in Janet Garcia's Video marketing Group facebook.com/groups/internetvideomarketing and I thank you for sharing"

Roger
14 Oct 2010 1:54pm
"if you are the creator of this pic, i have to say it is very cool! to think we came a long way as far as resolutions. I have a request though: is it possible to update it with an "eyefinity" resolution? i only ask because i think this is really cool for a background, but i have a 6048x1080p resolution for my desktop. thanks again!

[Reply from Robert Giordano]
Thanks, I did indeed create this image. Unfortunately, I don't think there is any "standard" Eyefinity resolution because, as far as I understand, you can configure up to six monitors in any number of configurations, to work as a single desktop. I currently own an HTC EVO 4G and it has an 800 x 480 display. I wanted to give an overall sense of scale to the common resolutions we've been used to for the past 30 years or so. I don't have the time to update this thing every week, lol.

Thanks again for the comment!"

Dan
15 Jul 2010 8:24am
"While you're listing 4:3 and 16:9 resolutions, you might as well point out the 16:10 resolutions too (1680x1050, 1440x900). Just a suggestion."

Leave a Comment