Miscellaneous > Syma X1 Quadcopter - Custom FPV Build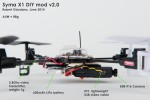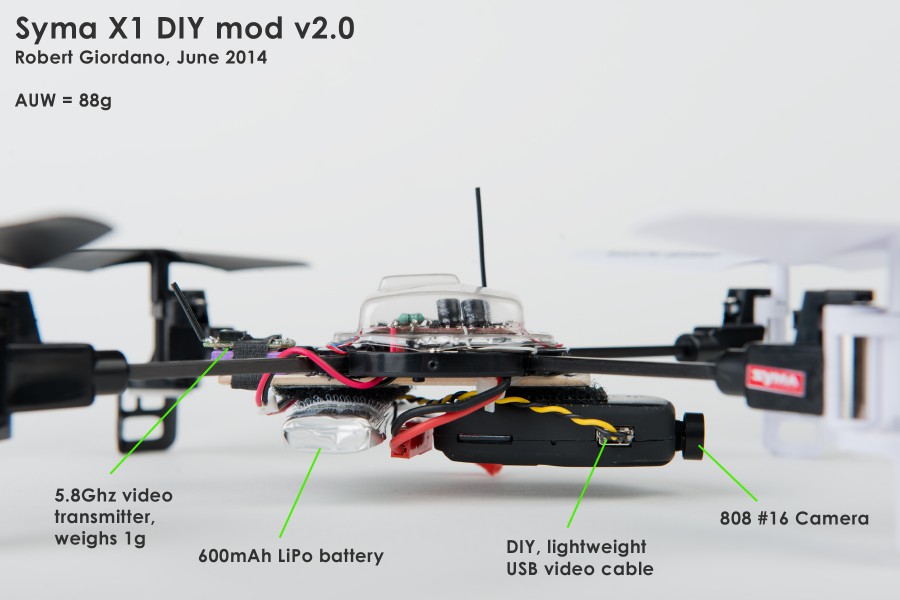 Syma X1 Quadcopter - Custom FPV Build
The Syma X1 Quadcopter is a small, $32 toy helicopter with a remote control. It does not have a camera or any FPV (First Person View) equipment.

The following are Robert Giordano's notes:

I modified my X1 so it could record video to a micro SD card while also transmitting a live video stream to a monitor on the ground so it could be flown FPV. Unlike larger quadcopters such as the Phantom 2, the X1 is a small toy that only weighs 68 grams with the stock battery. It wasn't designed to carry a camera or FPV gear so it was definitely a challenge.

My Goals:
- Minimal mods to the X1 itself. If I crash it beyond repair, I want the least amount of effort to get another one ready.
- No modifications to the 808 camera. I've seen other people do it but I wanted to keep the full functionality of the 808, with its stock battery and case. The camera attaches to the X1 with velcro so I can easily remove it and use it for other purposes.

Syma X1 Modifications:
- Removed stock body.
- Removed stock battery and battery holder.
- Replaced stock radio with a Turnigy 9X radio.
- Added lightweight wood underneath to attach gear.
- Added a larger, 600mAh LiPo battery.
- Added an 808 #16 keychain camera.
- Added a 10mW 5.8gHz video transmitter.
- Made a custom USB cable to connect 808 and Tx.

Notes:
- The Turnigy 9X radio more than doubles the range of the X1 over the stock radio. When the X1 goes out of range, the motors simply shut off and it will fall to the ground.
- The wooden platform is glued to the body of the X1 with E6000. I tried super glue first but it didn't work as well.
- Everything is balanced so the center of gravity is still in the center. Balance can be adjusted by moving the camera back and forth on the velcro.
- There is a small piece of foam between the video Tx and the wood platform. The foam is glued to the wood. A strip of gaffer's tape wraps around everything and secures the Tx to the platform.
- I ended up using a separate, 160mAh battery for the Tx in order to eliminate video interference from the motors. The separate battery is the lightest solution I was able to find.
- The 808 camera hangs upside down but is set to flip the video so the video files look normal.
- I made the custom USB cable to save weight.

Parts, Syma X1:
- Syma X1 Quadcopter

- 808 #16 Keychain Camera

- Turnigy 9X Transmitter
- 5.8Ghz 10mW Video Transmitter
- 600mAh LiPo batteries

- 160mAh LiPo batteries
- Traxxas 2933 LiPo Charger

- Pico Plugs
- JST Connectors
- Sandisk 32GB Micro SD card

- USB Mini B DIY connector

Parts, Ground Station:
- Boscam RC305 5.8Ghz Video Receiver
- 8" Lumenier LCD FPV Monitor
- ImmersionRC 5.8Ghz SpiroNET antenna
- Adjustable light stand

- Mini ball head mount

- 2500mAh battery

Performance:
- All up weight (AUW) is 88 grams.
- The X1 cannot handle ANY wind at all.
- Flight time is between 5 and 6 minutes.
- The video Tx battery will last 2 to 3 flights.
- The 808 battery will last 3 to 4 flights.

Video:
FPV Flight 01, my first FPV flight!
FPV Flight 02, lost and found!
FPV Flight 03, a nice parking lot flight.

The X1 CANNOT handle windy days or even gusts above 5mph!! If you watch my third video, I was flying on a very calm day with little, 5-10mph gusts every now and then. You can tell when there is a gust of wind because the X1 wobbles and loses altitude quickly! I'm able to recover each time without any damage but I think my X1 is operating at its maximum weight for outdoor flight. It just needs really, really calm days!