Time Lapse Film and Video > West Marine 1292 Time Lapse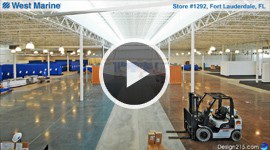 West Marine 1292 Time Lapse
This is a time lapse film of West Marine Store #1292, being set up in Fort Lauderdale, Florida. Located at Andrews Avenue and State Road 84, it's the largest store in West Marine's chain of over 300 locations. The 50,000 square foot facility is twice the size of existing flagship stores.

Starting in November 2011, Design215 photographer, Robert Giordano, set up 2 Nikon DSLR cameras, running simultaneously, seven days a week, 24 hours a day, for three weeks. Two cameras allowed more than one area to be filmed at the same time and it allowed one camera to be moved while the other camera was still running. Various lenses were used for the different shots, including a Nikon 10.5mm fisheye for the closing sequence of the film. The still images from the fisheye lens were batch corrected in post, resulting in straight verticals and a 170 degree view of the finished store.

All of the original footage is Cinema Quality 3k, or 50% larger than 1080p HD. This cut was edited down from more than 35 minutes of footage.