Industrial Webmail
Industrial Webmail allows anyone to check their POP email address using a web-based mail interface.

An example of a POP email address would be one like yourname@yoursite.com. Generally people set up their home or office computer to check this type of email address. When traveling or when away from their office, web-based email is more convenient because it can be checked from any computer, using a browser. Popular web-based email addresses include Yahoo and Hotmail.

With Industrial Webmail, you can continue to use your regular email program at your home or office. If you're anywhere else, simply open a browser and log in.


Current Features:
Secure login. Passwords are sent encrypted.
Check, delete, compose, and forward messages with attachments.
Full multi-part message support.
Send messages in HTML and plain text.
View messages list and an open message simultaneously, just like a regular mail application.
Compose more than one outgoing message at a time.
Automatic warnings when messages contain viruses or other invasive scripting.
All popups are blocked.
View complete headers and source of each message.
View attached images inline.
Industrial Webmail is still in development. It is being used every day by our clients but there are many features we are planning to add in the near future.

Upcoming Features:
Custom "Skins" to match your web site
Spellcheck with optional slang wordlist
Address book with import / export
User defined folders for organizing messages
Tabbed interface for opening several messages at once
Customizable Spam filtering
Search utility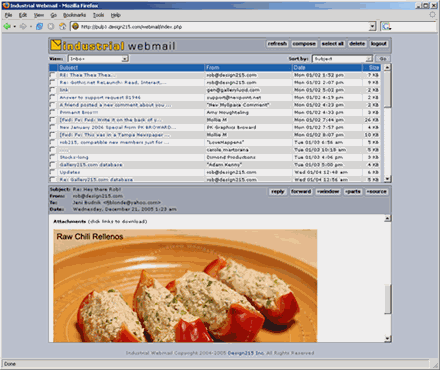 This snapshot of Industrial Webmail shows a list of emails in the upper half of the window and an email with an attached image being viewed in the lower half.